Long term home stay
PERSONAL CARE
So that we can provide the personal care and normal routine of a home environment, we usually only accommodate one dog at a time for overnight stays, or two if from the same family. Because Paws Inn has solid year-round bookings of regular clients, they often get to stay at the same time as they know each other.
During peak periods, such as Christmas holidays, there are overlaps ... with permission of owners.
 
NO OUTSIDE KENNELS
Your dog sleeps inside at the Inn where clients have their own pet motel room. But there IS a good sized grassed backyard for play.
INTRODUCTIONS
"We encourage owners to bring their pet to the Inn for an introduction before their long term stay to ensure everyone gets along well," said John.
"Owners can have a relaxed holiday, weekend away or business trip knowing their dogs have checked out their own holiday home.
"However, with apologies to owners of AMERICAN STAFFIES, it's the one breed we cannot accommodate. Even the friendliest can be that bit too energetic for the many smaller breeds that come to Paws Inn for long term stay or day care," John explained.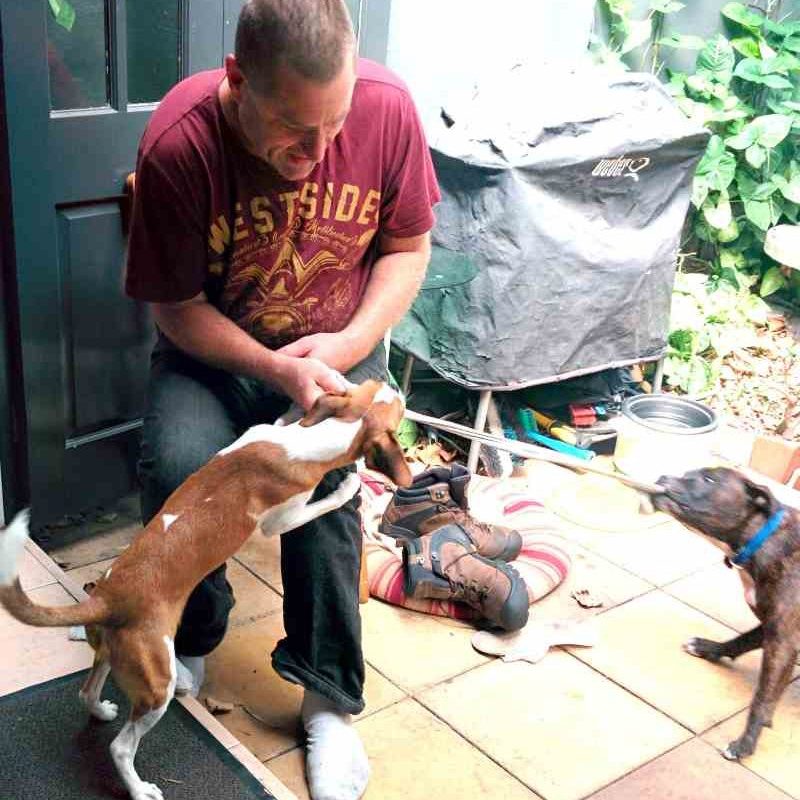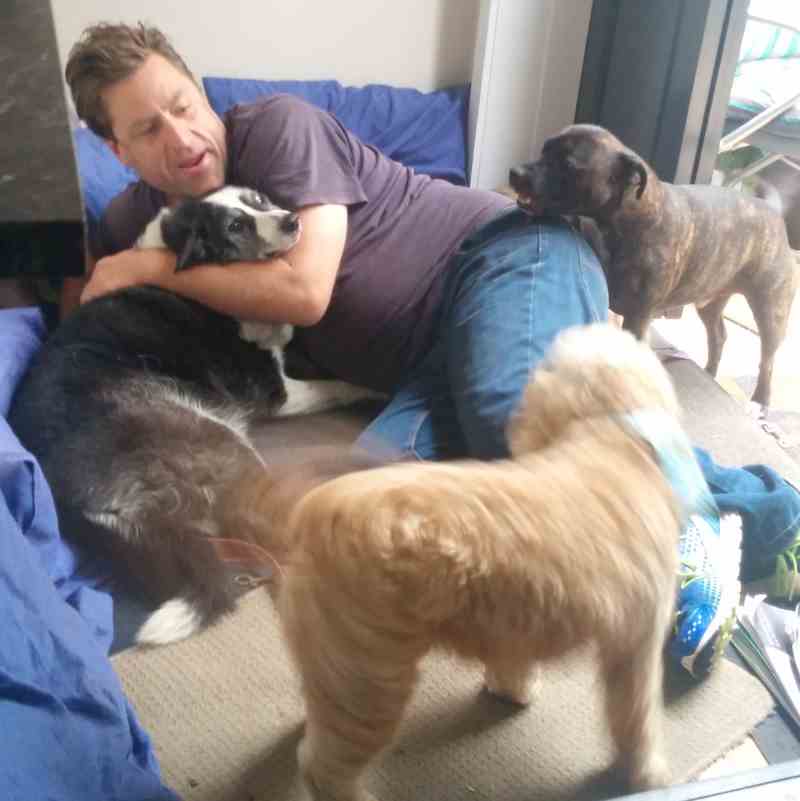 THE IMPORTANCE OF PLAY.
Supervised play time is an integral part of the work at Paws Inn.   And John enjoys the games as much as his clients.
"Not all dogs are ready for the rough and tumble some love.  The older, nervous dogs sometimes need protection," explained John, seen here with his arm around 13 year old Border Collie, Jessie.
Jessie was on pain killers for her last days at the Inn.  As owner, Robyn Fraser said:  "Instead of leaving Jessie at the vet for those last weeks, she had fun and friends at Paws Inn during the week.
"I can't thank Jackie and John enough for the love and care they gave her."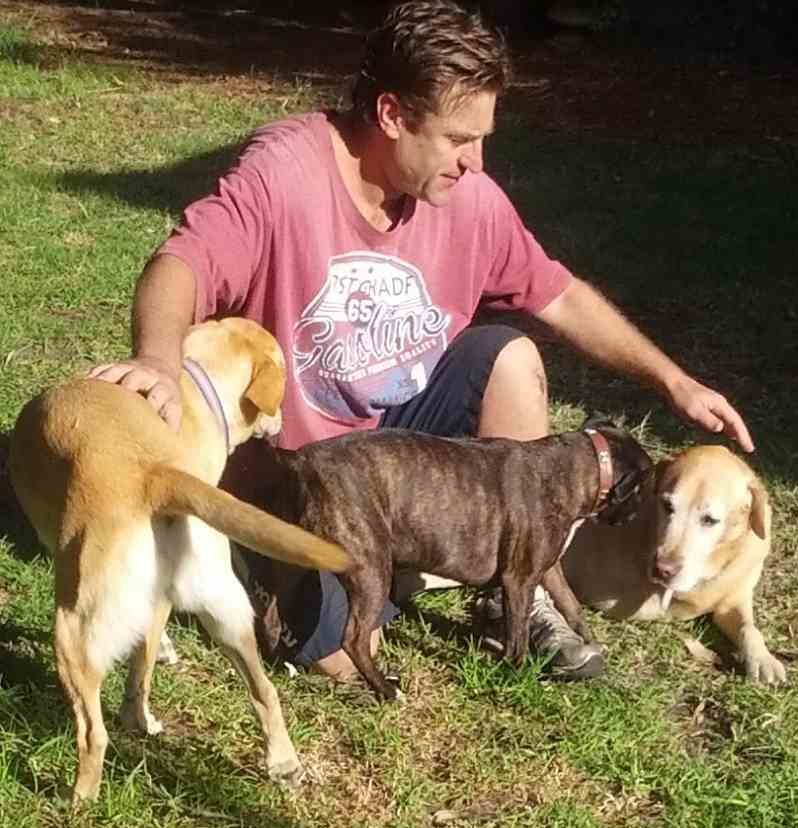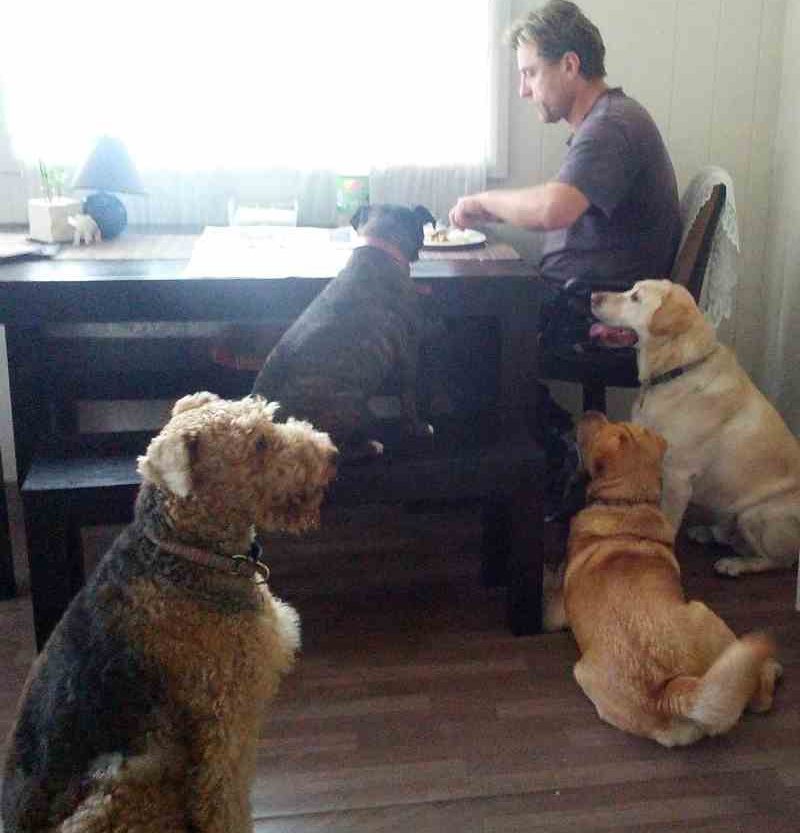 THE COMFORTS OF HOME
REAL HOME ATMOSPHERE
Paws Inn customers feel quite at home, even while John tries to eat breakfast.
"But we are careful to follow owners' directions on the special diet of every customer," said John, who's careful not to let greedier customers sneak any of his food.
Day care
DAY CARE bookings are for a minimum of three days a week. Walks and supervised play time are included in the cost (see Rates Page). Rest time is also important.
Sanchez the rescue Chihuahua, pictured above with Braxton, was scared of other dogs and some people before his day care days at the Inn.
"He was soon happy to cuddle up to a muscled Staffy and even learnt it was safe to check out visiting workmen at the Inn," said John.
Walks are for day care and overnight stay customers.